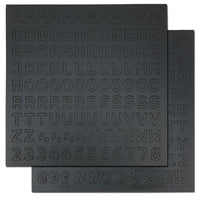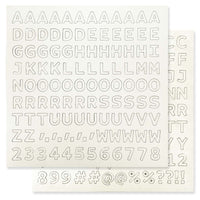 Magnetic Letter Sets - Letters For Board 3/4"
Each Jut Board Magnetic Letter Set already comes with a set of 226 characters, which will allow for copious amounts of message possibilities. However, if you find yourself aspiring to become a novelist, an extra set of magnetic alphabet and numbers will take care of all your writing needs.
Courier Prime Sans letters are made of black faux leather vinyl on top of a durable, lightweight foam core.
226 Character breakdown:
A - 12, B - 6, C - 6, D - 6, E - 14, F - 5, G - 5, H - 6, I - 12, J - 3, K - 3, L - 6, M - 6, N - 10, O - 12, P - 6, Q - 3, R - 10, S - 10, T - 11, U - 6, V - 3, W - 5, X - 4, Y - 6, Z - 2,
0 - 2, 1 - 3, 2 - 2, 3 - 2, 4 - 2, 5 - 2, 6 - 2, 7 - 2, 8 - 2, 9 - 2,
period - 4, comma - 5, dollar symbol - 2, ampersand - 2, hashtag - 2, at sign - 2, percent sign - 2, dash - 2, backslash - 2, question mark - 2, exclamation point - 2
To view pricing and purchase
Login and Apply